Products Description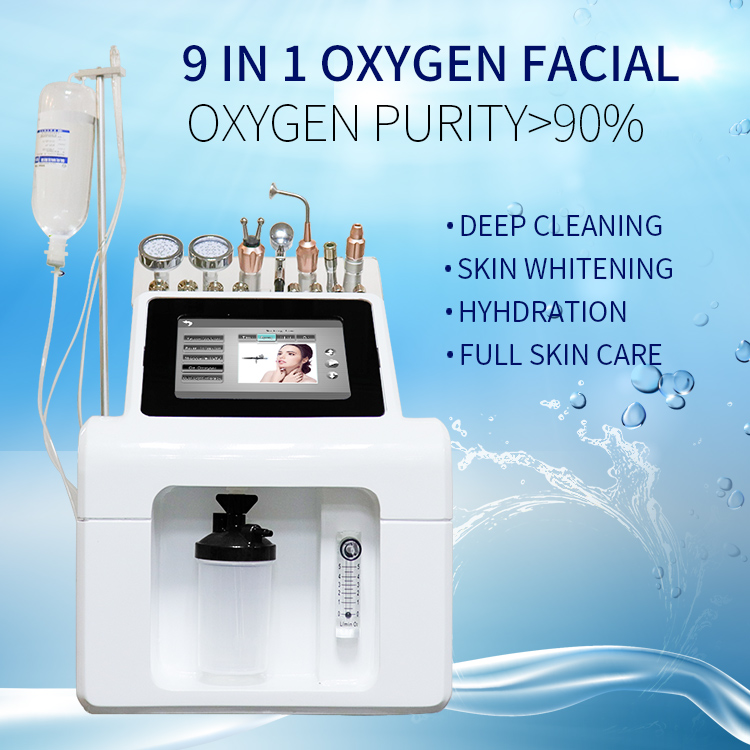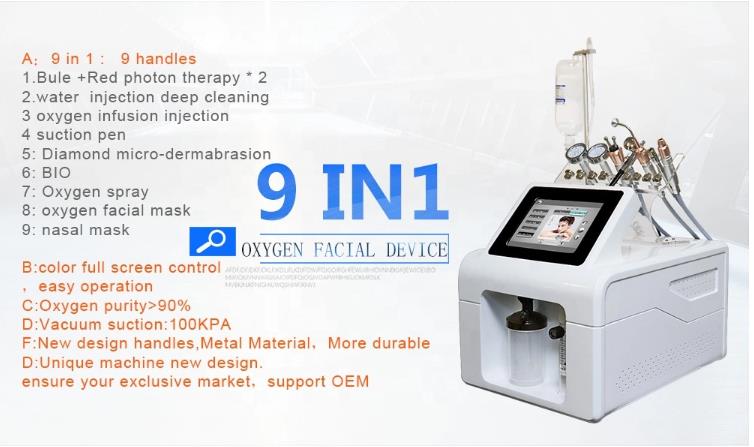 9 in 1 multifunctional oxyfacial

Hot selling hydro dermabrasion machine / water dermabrasion machine for face cleaning
1.Bule +Red photon therapy * 2
2.water injection deep cleaning
3 oxygen infusion injection
4 suction pen
5: Diamond micro-dermabrasion
6: BIO
7: Oxygen spray
8: oxygen facial mask
9: nasal mask
Handle Introduction
1.Oxygen Sprayer

------ Press the control button to produce the oxygen. Pull back to produce the extract moist, or produce mix
mist of extract and oxygen after adjust, it has a container device.


2.Vacuum Pen

------ Lymph drainage use for the face and neck.


3.Oxygen Infusion jet

------ Use when infusing oxygen to skin


4.Oxygen Mask (facial and nose)-

----- For oxygen scent and Aroma therapy.


5.BIO wrinkle-dispelling

stick---- it is used for nursing skin wrinkle.


6.Water Oxygen pen

-deep cleaning face


7. Photon therapy
Red light (630nm)


Whitening pale spot, tender skin and anti-wrinkle, repair damaged skin, smooth the fine wrinkles, shrink pores, hyperplasia of
collagen


Blue light (470nm)


Efficiently destroy the bacteria, minimize acne, inflammation and in a short span of time period to heal acne significantly
reduced.
1).Removing aging cutin. 2).Removing acne and blackhead.
3).Deeply cleaning skin.
4).Skin whiten.
5).Shrinking pores.
6).Skin rejuvenation.




C.Suitable People:


The oxygen infusion is especially suitable for the smoke females in city, or who with drooping chests, the bad bodyline, skin
dull, sensitivity, wrinkles, speckles and acne. It can increase cells rejuvenation, improve and promote blood circulation,
accelerate metabolism, improve sensitive skins, adjust bodyline in good status.
After oxygen infusion, you can feel very relax, health. It also has whitening effects. It will be better if matching with special
extracts.



D.Main Features of oxygen therapy facial machine


1. Mist oxygen spray, oxygen infusion and oxygen scent, 3 functions together.
2. It can supply continuous high-pressure oxygen, 95% pure oxygen.
3. It makes skins easily inhale nutrition.
4. If matching with our special extracts liquid, it will receive remarkable effects.
5 Sprayer is made of stainless steel, it with extracts liquid container at the end.
Product Name

Oxygen facial machine

Voltage

AC110V±22V;50Hz±1Hz
AC220V±22V;50Hz±1Hz

Oxygen purity

30%~90%

Oxygen Flow

1L/min—9L/min

Input power

30kPa—100kPa

Noise Level

≤35db(A)

Weight

18kg

Display:

10.4 inch